Enjoy stunning images with vivid colours on a large 106 cm (42) screen with the Blaupunkt Full HD LED Smart TV. The powerful 40 W speakers of this Smart TV help provide an immersive audio experience. The TV is powered by an ARM Cortex-A53 processor that provides seamless performance and multiple connectivity options.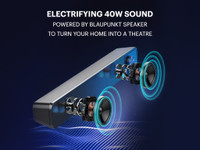 Rich Sound Quality
The Blaupunkt Full HD LED Smart TV features powerful 40 W speakers to produce distinct high-quality sound. The speakers enhance the audio, making it smooth, loud, and clear, resulting in a theatre-like audio experience.
Crisp Visuals
This Smart TV features HDR technology that helps produce vivid, detailed visuals on its screen. The technology enhances and brightens the images to reproduce images frame-by-frame, resulting in realistic visuals with a high nit level.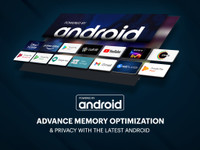 Android Operating System
This Smart TV runs on the Android 9.0 operating system, letting you access a large library of streaming services and apps from the Google Play Store. It lets you customize your home screen, cast your screen, or play videos from your phone or tablet.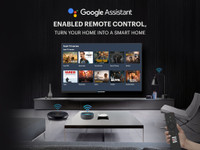 Google Assistant
The Blaupunkt Full HD LED Smart TV supports Google Assistant, giving you access to a whole host of features like daily reminders, operational control, and much more, with just your voice.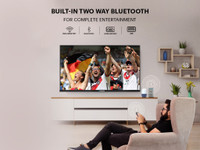 Numerous Connectivity Options
You can connect this Smart TV with compatible devices using its multiple connectivity options. These options include USB, HDMI, and Bluetooth peripherals. You can also connect your mobile with this TV via Chromecast (Android) or AirPlay (iOS).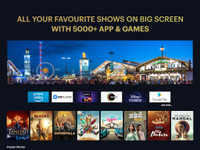 A Library of Apps and Games
The Android Operating System of this Smart TV means that you can access the Google Play store to download multiple apps and games. You can download popular streaming apps like YouTube, Amazon Prime, Sony Liv, Zee5, and more.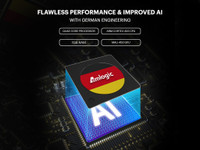 Powerful Processor
This Smart TV is equipped with a Cortex-A53 quad-core processor along with a Mali quad-core GPU and has a clock speed of 1.4 GHz. These features help provide powerful, seamless performance to keep you entertained for a long time.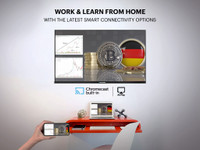 Device Mirroring
You can access all your favourite videos, apps, or games on this Smart TV by mirroring your phone's screen with the help of Chromecast (Android) and AirPlay (iOS).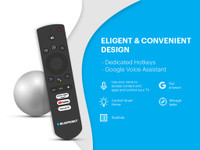 Easily Accessible Remote
This Smart TV is accompanied by an equally smart remote that lets you control Google Assistant with your voice. It also features easily navigable buttons and hotkeys for popular streaming services like Sony Live, Amazon Prime, and YouTube.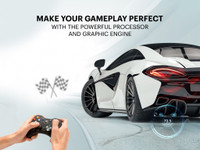 Improved Gaming Experience
This Smart TV from Blaupunkt offers an improved gaming experience with minimal lag, letting you experience each frame of your favourite games.