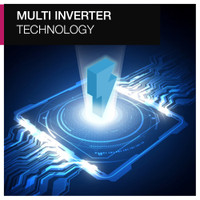 Multi-inverter Technology
Featuring multi-inverter technology, the Godrej 265 L Double-door Convertible Refrigerator's inverter-run fan motor and compressor effectively control its cooling speed so that it runs at optimal efficiency and consumes less power.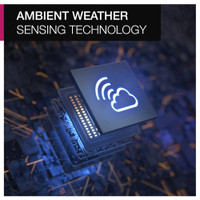 Ambient Weather-sensing Technology
Courtesy of its multi-sensor technology, this refrigerator keeps an eye on the internal and external temperature and constantly changes its settings accordingly to deliver superior cooling performance.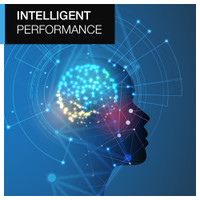 Smart Appliance
By adapting to the usage patterns, this refrigerator's automatic defrost cycle eliminates the need for manual defrosting, ensuring hassle-free maintenance. Moreover, it renders energy-efficient performance with optimal cooling.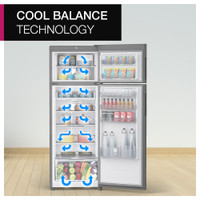 Cool Balance Technology
Integrated with Moisture Control technology, the vegetable tray in this refrigerator can retain the freshness of produce for as long as up to 30 days. So, even if you go on a holiday, your veggies will still be fresh in the fridge when you get back home.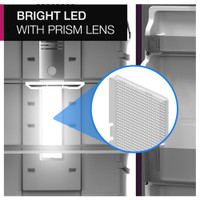 Bright LED with a Prism Lens
Featuring an LED light with a prism lens, this refrigerator ensures that the inside is illuminated for a clear view.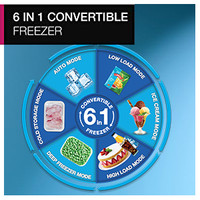 Six-in-one Convertible Freezer
This appliance's six-in-one convertible freezer offers you the flexibility to use it as per your requirement and preference. Its Auto Mode can be used for smart temperature control, while the Low Load Mode helps keep your electricity bills in check. Besides, you can enjoy having ice cream at the right temperature, thanks to this freezer's Ice Cream Mode. Furthermore, its High Load Mode lets you utilise the entire space and stock up the freezer with different items. It also features a Deep Freezer Mode that keeps your frozen food items fresh.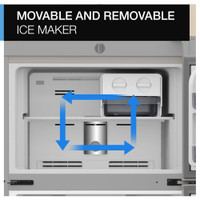 Movable and Removable Ice-maker
This refrigerator's slidable ice tray offers you the flexibility to store it anywhere in the freezer. And, it can easily be taken out for enhanced convenience.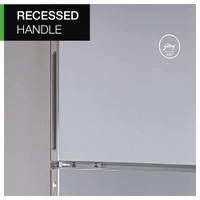 Recessed Handle
Featuring a sleek recessed handle, this refrigerator looks elegant and contemporary. This way, this aesthetically pleasing appliance is sure to blend with your modern kitchen decor.