You can elevate the visual experience during your binge-watching sessions and movie marathons with the classy and efficient Kodak 7XPRO Series Full HD LED Smart Android TV. With an Ultra-bright display and wide-viewing angle, this TV lets you enjoy impressive image quality in various lighting conditions. Its powerful speakers deliver immersive and bass-boosted audio, which complements the stunning visuals on the screen. And, if you want the fun prolonged for extended periods, you can switch between approximately 5000+ apps to consume exciting content in HD.
Product Description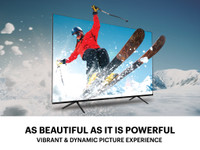 Vibrant Visuals
This TV's bright display enhances each scene's brightness and contrast levels so that you can view the coloured elements on the screen in vivid detail. Explore the beauty of the African savannah or the travel destination on your wish list from the comfort of your home on this TV's stunning display.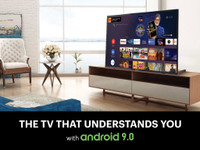 Android 9.0
Equipped with the user-friendly Android 9.0 operating system, this Android TV lets you easily access your favourite content. You can view new content or re-watch old episodes anytime you want. Plus, Android 9.0 also offers you the added merits of artificial intelligence.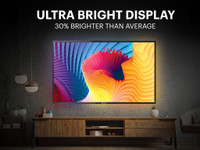 Ultra-bright Display
Thanks to its ultra-bright display and wide-viewing angle, this TV can provide a comfortable visual experience in different lighting conditions.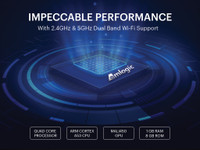 Powerful Processor
This TV uses the Amlogic chipset powered by a quad-core CPU and GPU, which delivers a clock speed of up to 1.4 GHz. Equipped with this commendable feature, this TV is ideal for smooth and glitch-free visual entertainment.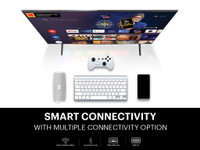 Multiple Connectivity Options
Multiple connectivity options make this TV a versatile solution for your entertainment needs. You can pair your headset with this TV via Bluetooth and shake a leg to your favourite music videos late at night. If you want to surf the internet, this TV's dual-band Wi-Fi compatibility feature will let you do the same with reliable internet speed. Plus, you can use the inbuilt Chromecast and the Airplay features to project visual content from your phones, laptops, or other devices to this TV's large screen.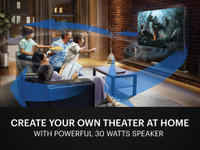 Enriching Audio
This TV's high-fidelity 30 W speakers deliver immersive and bass-boosted sound so that you can turn your living room into a movie theatre.

Smart Remote
Sporting an ergonomic design, this TV's smart remote helps you browse through its apps and features with ease. All you have to do is push the dedicated hotkeys on the remote to access your favourite streaming platforms, such as Sony Liv, Amazon Prime Video, and YouTube. Moreover, the remote also features Google Assistant, so you can use your voice to search for content. Simply hit the Google Assistant button and begin navigating without pausing the content playing on your TV.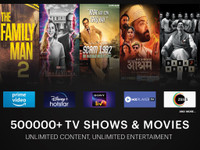 Wide Range of Content
You can download about 5000+ apps on this TV, including Amazon Prime Video, Sony Liv, YouTube, Disney+, Hotstar, Zee 5, and more. This TV can fill your movie nights with excitement by offering a large variety of shows, movies, and similar HD content from multiple platforms. And, if you have a penchant for gaming, then the wide range of games offered by this TV will alleviate your boredom in between your movie binge-watching sessions.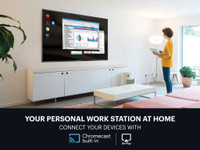 Built-in Chromecast and Airplay
The inbuilt Chromecast and Airplay features enable you to connect your phone, laptop, or other devices to this TV so you can view your work files or study material on its large screen while attending classes or meetings online.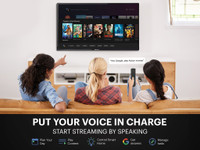 Google Assistant
By pressing the smart remote's Google Assistant button, you can look up your favourite content and do much more through the voice search feature.