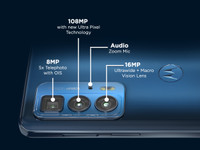 108 MP Quad Function Camera System
You can capture realistic photos with the motorola edge pro's 108 MP Ultra High-resolution Sensor. You can take sharp images no matter the light condition, thanks to the Ultra Pixel technology that supports up to nine times the light sensitivity. You won't have to lose out on clarity using the Super Zoom feature.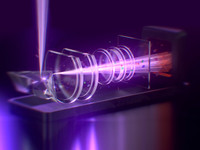 Telephoto Camera + Digital Zoom
This mobile phone has a periscope-style telephoto lens that enables you to take photos even when you're far away from the subject without losing clarity. And, with Super Zoom, you won't lose out on important details.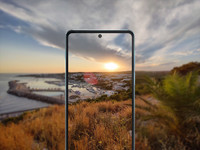 144 Hz AMOLED HDR10 Display
With the 144 Hz 10-bit AMOLED HDR10+ Display, you can experience the richness of over a billion shades of colour. You can enjoy vibrant images and darker blacks, enriching the content that you assume. And, with a 144 Hz refresh rate, you can enjoy smooth usage.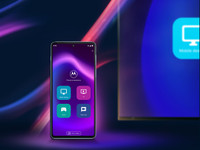 Easy Amplification
Thanks to the Ready For feature of the motorola edge 20 pro so that the content on-screen can be amplified. You can play games, answer video calls, and more on the large screen. You can also use all your favourite apps on the desktop's display so that you have enough space for work and entertainment.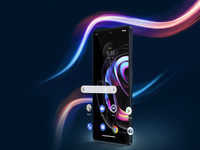 Snapdragon 870 + 8 GB LPDDR5 RAM
You can enjoy ample memory along with the speed and efficiency of the powerful Qualcomm Snapdragon 870 processor of this mobile phone. And, with the 5G network, you can stream content and more with ease while you can quickly access fast Wi-Fi 6 networks.
32 MP Selfie Camera
The 32 MP Selfie Camera of this mobile phone can be used to take eye-catching selfies no matter the time or light. With Quad Pixel technology ensures more light sensitivity, exposure adjustment, and evening out of skin tones so that your selfies look better.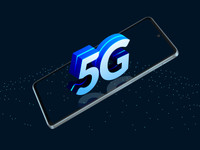 True 5G Support
With True 5G support of 5G bands of the motorola edge 20 pro. You will be ready for the future as it connects to faster networks so that you can enjoy using your mobile phone.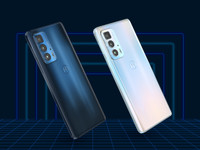 Sleek and Stylish Mobile Phone
Thanks to the sleek and stylish design of the motorola edge 20 pro, you can enjoy the appeal of the device from every angle. Its dual corning glass on the front and the back of the mobile phone ensure durable and secure usage. Its slim profile enables you to slip it into your pocket with ease.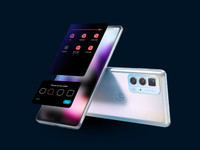 Android 11
You can enjoy near-stock Android 11 that's free of duplicate apps and clunky software skins. You can also experience a UI that helps you enjoy easy, smooth, and fast usage.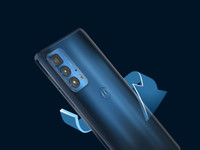 OS Upgrades
This mobile phone provides Android updates so that you can experience the benefits of staying up to date with technological advancements for a thrilling mobile experience.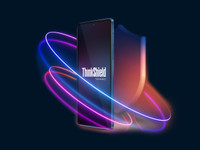 Thinkshield for Mobile
With Thinkshield for your mobile, you can enjoy business-grade security. The protection at every level makes use of comprehensive hardware and software security features so that you can enjoy protected usage.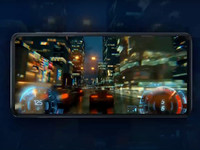 RAM and Storage
This mobile phone offers enough storage space for your data with UFS 3.1 Storage with TurboWrite. And, with the RAM of this mobile phone, your favourite apps and the information on your phone stay prepared in the background for smooth operation and you can also alternate between apps with ease.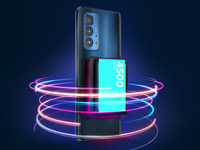 Powerful Battery with TurboPower Charging
Thanks to the 4500 mAh battery of the mobile phone, there will be enough power to juce up the 5G connections. And, with TurboPower 30 W charging, you can enjoy up to 9 hours of power after charging the device for up to 10 minutes.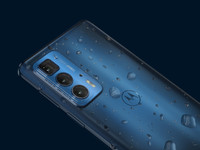 IP52 Water-repellent Design
This mobile phone features an IP52 water-repellent design so that spills and splashes don't damage your device. This way, your phone will be protected from the inside and the outside.