Powered by Crystal Technology, the television boasts some best-in-segment features such as One Billion True Colours for authentic representation of every colour, HDR10+ for crisp visuals even during dark scenes and a Bezel-less Design for an immersive viewing experience. The crystal 4k Neo comes with Dolby Digital Plus and Adaptive sound technology so that you can indulge in a theatrical sound experience. Keeping in line with modern entertainment needs, this TV features a built-in Voice assistant, Universal Guide, PC Mode, Samsung TV Plus, thus making your TV watching experience engaging. Moreover, the Auto Game Mode and Motion Xcelerator features bring out the gaming enthusiast in you as it helps in fast frame transition and low latency for an engrossing gaming experience.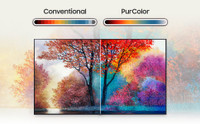 PurColor Technology
The Samsung UHD TV features PurColor technology that exposes a wide range of colours to ensure optimal picture performance, thus delivering a captivating visual experience.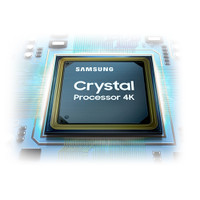 Impressive Crystal 4K Processor
Powered by an efficient 4K processor, this TV offers 4K resolution images for every content you love. Also, the integrated colour mapping technology on this TV lets you experience realistic colours.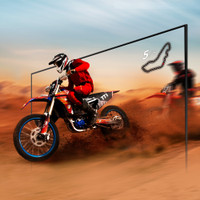 Exceptional Motion Xcelerator
The extraordinary Motion Xcelerator feature of this Smart TV automatically estimates and compensates frames from the content source to deliver smooth action sequences and impressive performance without significant stutters or motion blur.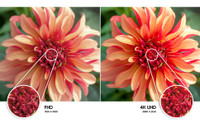 Spectacular 4K UHD Resolution
Sporting 4K UHD resolution technology, this TV renders precise, detailed, and sharp visuals every time, thus making your TV watching experience highly immersive and engaging.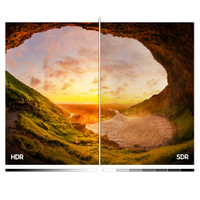 HDR Visuals
This TV comes with an HDR feature that improves the range of light levels to expose a wide range of colours, thus letting you enjoy clear visual details even during dark scenes.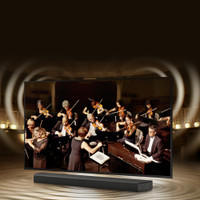 Immersive Q-Symphony
The Q-Symphony technology helps to synchronise the sound from the speakers and soundbar, while allowing them to function simultaneously for surrounding sound effects throughout your living space.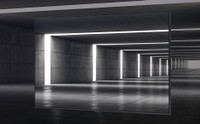 Elegant 3-side Bezel-less Design
This TV features a slim and sophisticated 3-side bezel-less design that adds an aesthetic appeal to your home decor.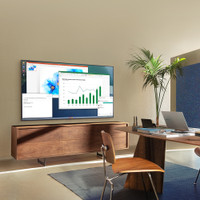 Effortless PC Accessibility
You can enjoy accessing smartphone, PC, or laptop content on this TV, thanks to the smart accessibility feature on this TV.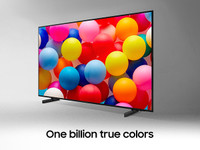 One Billion True Color
With one billion true colour technology, Samsung UHD TV offers breathtaking visuals every time you turn it on. This feature helps the TV to reflect different colours for an optimal and immersive viewing experience.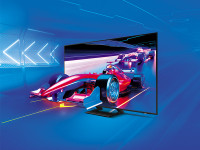 ALLM (Auto Low Latency Mode)
The ALLM Auto Low Latency Mode on this TV helps to automatically set an appropriate frame transition and low latency for a smooth, lag-free and uninterrupted viewing and interactive experience while playing games.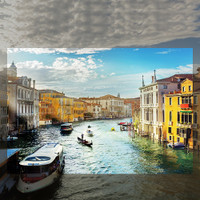 Contrast Enhancer
The Contrast Enhancer feature on this TV lets you have an improved sense of dark and bright colour for every image that appears, thus, letting you enjoy stunning visuals. This innovative technology manipulates the colour contrast and brightness to facilitate an enhanced contrast to the visuals.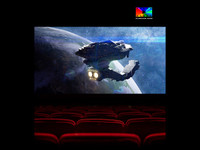 Film Mode
This TV comes with a built-in Film Mode so that you can experience a theatrical ambience from the comfort of your home. With this feature on your TV, you can see and hear content the way it is intended to be without picture enhancements.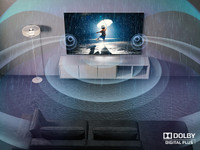 Dolby Digital Plus
Surround your living room with cinematic 3D aural effects, thanks to the in-built Dolby Digital Plus sound on this TV.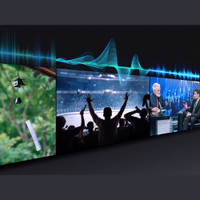 Adaptive Sound
Keep yourself engrossed in an enchanting audio-visual experience with the Adaptive sound, which helps to automatically optimise the sound based on the real-time scene analysis and the type of content that you watch.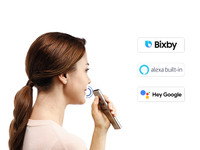 Hassle-free Voice Assistant
You don't have to search or find a TV show using your remote, as this TV features multiple voice assistants set-up such as Bixby, Amazon Alexa or Google Assistant. As a result, you can enjoy an optimal entertainment experience and advanced control just by using simple voice commands.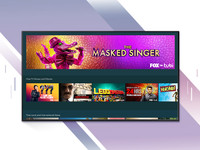 One-stop Entertainment Guide
Speed up your TV browsing experience and find what to watch across live TV and OTT using the integrated universal guide. You can easily find your favourite movies and TV shows all in one place.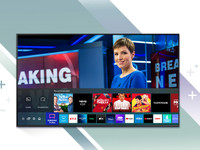 Samsung TV Plus
Thanks to the Samsung TV Plus feature, you can enjoy free streaming of TV content and choose from a range of popular content based on your interests. So you don't need to ask your friend which content is trending these days.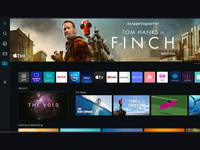 Infinite Entertainment Apps
Explore access to a plethora of streaming apps such as Netflix, Disney+, Prime Video, Zee5, Apple TV and more. Hence, you can stay engrossed in the TV throughout the day.