This phone comes with 4 GB of RAM and 128 GB of internal storage to make multitasking a breeze. It is powered by a Snapdragon 750G processor which gives your operations the required boost to achieve the pinnacle of efficiency. Boasting a screen that is equipped with Gorilla Glass 5, and having a refresh rate of 120 Hz, this phone offers sturdy, as well as, smooth operation. Sporting a triple camera setup, this phone comes with a 50 MP camera that has a 123-degree ultra-wide vision lens that helps you capture stunning images with brilliant accuracy. This phone also comes with a 5000 mAh battery and 25 W fast charging function that keeps you going for a long time.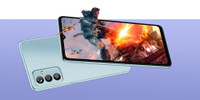 Enhanced Speed
Thanks to the Snapdragon 750G processor and 4 GB of RAM, this phone can keep up with you and deliver increased performance while consuming less energy, thus facilitating graphics-heavy games and juggling between multiple applications.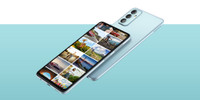 Smoothness Redefined
The Samsung Galaxy F23 5G is equipped with Gorilla Glass 5 that adds an extra layer of protection to your screen. Furthermore, this phone has a high refresh rate of 120 Hz and a Full HD display to provide you with a smooth and safe experience.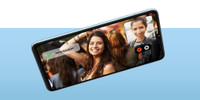 Elevated Clarity
This phone boasts a Speech Focus function that removes background noise so that the recipient can hear your voice clearly and without interruption. Not only that, but the Samsung Galaxy F23 5G also improves the caller's voice by making it loud and clear.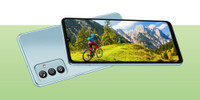 Say Cheese…
The Samsung Galaxy F23 5G has a triple camera setup that comes with a 123-degree ultra-wide vision lens that helps you click beautiful pictures. The 50 MP camera helps improve your social media game by capturing clear, colourful, and brilliant photographs in a variety of lighting conditions.
Unmatched Power
This smartphone sports a 5000 mAh battery that lets you play your favourite games all day long comfortably. It also comes with 25 W fast charging support making it efficient for heavy-duty operations.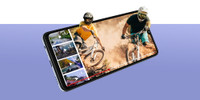 Blazing-fast Connectivity
The Samsung Galaxy F23's 5G-12 band support enables you to experience high-speed connectivity and increased bandwidth that helps you connect to the internet easily, thereby enhancing your work efficiency.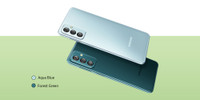 Enthralling Design
With its sleek and slender design, the Samsung Galaxy F23 5G boasts a thin frame, making it lightweight and simple to carry. With its unmatched style, this smartphone makes you the centre of attraction wherever you go.