Stylish, functional, and versatile, the ASUS ROG Phone 5 smartphone ensures that you can stay entertained and play games with ease. Its ergonomic design and AURA RGB lighting further enhance its aesthetic appeal, making it ideal for gaming-freaks who love to flaunt their devices. It features a powerful 5 nm Qualcomm Snapdragon 888 5G Mobile Platform which is capable of handling demanding tasks, such as gaming, browsing, multitasking and more. To top it off, this smartphone comes with a 6000 mAh battery that helps you play for long hours without having to charge it constantly.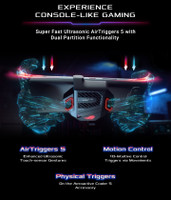 AirTrigger 5
This smartphone boasts AirTrigger 5 and ultrasonic buttons to take your gaming sessions to the next level. The AirTrigger 5 control system uses up to 9 sensors to offer enhanced accuracy/sensitivity, buttons, positioning (closer to the edge for smaller hands), and plenty of motion-sensing inputs, enabling a console-like gaming experience. This ASUS smartphone is capable of mapping up to 14 specific touchpoints on the screen at the same time. Not only that, but the AeroActive Cooler 5 offers two additional physical buttons, offering up to a total of 16 touch inputs excluding the ones on the screen.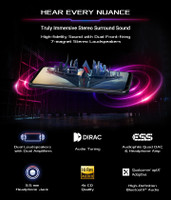 Clear Audio
Featuring GameFX, this ASUS smartphone delivers rich audio, which helps you listen to every nuance, be it while watching videos or playing games. The large dual front-facing speakers offer a balanced stereo effect, making it a delight to play games on it. This smartphone not only has a 3.5 mm audio jack but also includes an ESS SABRE ES9280AC Pro DAC with HyperStreamII QUAD DAC technology and an inbuilt Class-G ESS Sabre Headphone amplifier.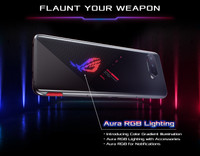 AURA RGB Lighting
You can flaunt this amazing smartphone with your friends and family as the AURA RGB lighting on this smartphone elevates its aesthetic appeal. The two RGB LEDs in the logo offer a cool gradient lighting effect, amkign it a delight to play games when you're at home or outdoors. This AURA RGB LED can also be used for notification purposes as well.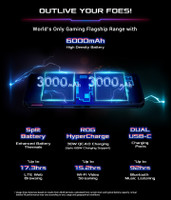 Massive 6000 mAh Battery
Equipped with a massive 6000 mAh battery, this smartphone lets you play games, browse the Web, and do more without having to keep it plugged in. The battery uses an MMT design that comprises two 3000 mAh batteries. This design helps lower the charging temperature and even produces less heat during discharging. Also, this design enables a charging support of up to a maximum of 65 W. Furthermore, this smartphone features a 2-cell design which allows the motherboard to be placed in the middle of the frame, helping in balancing the weight and also ensure enhanced cooling.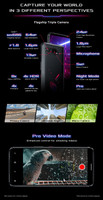 Clear Photos and Steady Videos
This smartphone comes with a main camera, with a 64 MP Sony IMX686 flagship sensor, that offers 16 MP main mode via a Quad Bayer color filter or a native 64 MP mode. You can even enjoy the benefits of lossless 2x magnification during daylight. In low-light environments, this camera will switch to a 2x digital zoom based on the 16 MP mode, capturing enough light to ensure stunning photos. Its secondary 13 MP 125° Ultra-wide angle camera, with real-time distortion correction, helps you capture photos with a wider view. This phone also includes a third 5 MP macro camera that helps you take close-up shots. Furthermore, the 24 MP front camera makes it a delight to capture selfies. Not only that, but you can also record videos with an astonishing resolution of up to 8K. You can also enjoy the benefits of recording up to 4K HDR videos with the dedicated Pro mode.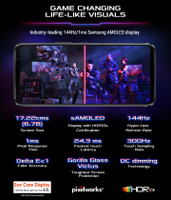 144 Hz Refresh Rate
With this phone, you can bid goodbye to lags while playing games as it comes with a 144 Hz Samsung AMOLED display. The display is sharp offers enhanced dynamic range, making it a delight to play games, stream videos, and more. The colour accuracy of Delta E<1 and an incredible touch sampling rate of 300 Hz, make this display seem seamless, letting you take your mobile gaming sessions to the next level. The screen of this phone is protected by Gorilla Glass Victus, protecting it even when it accidentally slips and falls.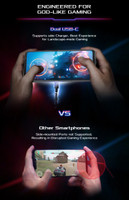 Connectivity Options
Even if the battery of the phone has gone down but you want to continue playing a game, then this phone is a must-have device for all the gaming freaks. It comes with dual USB Type-C ports that allow you to ergonomically hold it both hands without affecting your gaming experience.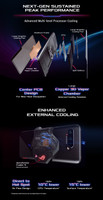 GameCool 5
Thanks to the optimized thermal structure of the GameCool 5 cooling system, this smartphone stays cool even when you are playing a graphics-intensive game. A few of the heat-generating components have been placed in the centre and the two batteries are located on either side of the main PCB to ensure that the main hotspots are kept away from your fingers, so you can play games with ease.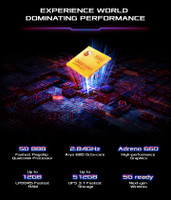 Powerful Processor
This smartphone from ASUS comes with a 5 nm Qualcomm Snapdragon 888 5G Mobile Platform which makes it easy to handle any task with ease. Thanks to the Qualcomm Snapdragon Elite Gaming suite, including Variable Rate Shading (VRS), you can enjoy up to 30% improvement in performance.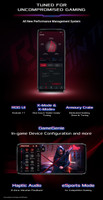 X-Mode and Armoury Crate
Featuring Android 11 and ROG UI, this smartphone helps you customize the look of your phone by letting you choose from a gaming-inspired ROG theme and icon set, or a typical Stock Android-like UI. With X-Mode, you can now set a wide variety of performance parameters. The parameters can range from CPU/GPU performance to touch sensitivity settings. Furthermore, the Armoury Crate helps you to customize the display, performance, touch, and network-related settings, depending on the game you play. Also, the dedicated eSports mode converts this phone into competition mode as it disables non-competition specific features so that you can play to your heart's content.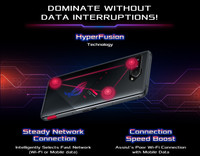 Wi-Fi 6 Support
With Wi-Fi 6 support, this smartphone helps deliver a stable wireless connection even in crowded networks. Also, this smartphone features a multiple antenna setup that is upgraded with HyperFusion technology. This setup helps you simultaneously connect to Wi-Fi as well as your mobile network so that you can enjoy a stable internet connection. What's more, this smartphone can also simultaneously connect to, both, 2.4 GHz and 5 GHz hotspots, helping you enjoy an enhanced connection throughput.