This 4 in 1 Convertible AC is suited for every occasion and keeps everything and everyone around it cool. Moreover, this AC consumes minimal energy and delivers maximum performance, thus proving to be easy on your pockets. 100% copper tubes adapted in this AC helps deliver impeccable performance and high-class ventilation for a long time.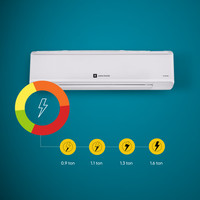 4 in 1 Convertible Operation
This Realme air conditioner comes with 4 customised operating modes that can optimise the energy usage of the AC depending on the number of people in the room. It boasts a Me time mode for one person, We time mode for two people, Family time mode for 4 people, and Party time for a small gathering of people at the house, making it all chilled out and comfortable for everyone around.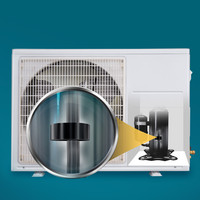 Inverter Technology
Thanks to the Inverter Technology with a variable speed compressor that ensures quick cooling, minimal power consumption, and extended compressor durability which results in energy efficiency and enhanced performance.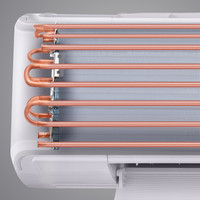 Copper Coils
100% copper coils incorporated in this AC facilitate efficient heat transfer keeping the ventilation seamless. Moreover, high-grade internal components equipped with the appliance ensure superior cooling even at extreme temperatures.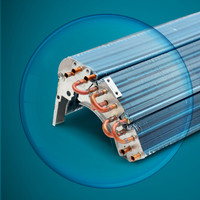 Blue Fin Anti-corrosive Coating
The Blue Fin coating on the coils of the AC protects it from water droplets, salt, and acid deposition, ensuring the longevity of the air conditioner by making it Anti-corrosive.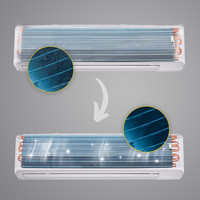 Auto Clean Advantage
This AC sports an Auto Clean feature that dries off the water droplets by a strong air throw, after the AC is switched off, to ensure that the internal operating unit of the appliance is safe and sound and kept off the residual moisture to prevent molds and dust from accumulating.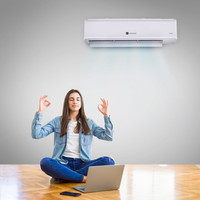 Shhh…Good Night
You can now sleep like a baby without any disturbance in your REM cycle. Thanks to the incredibly silent operation of this air conditioner that comes with a hidden display unit allowing you to enhance your sleep pattern.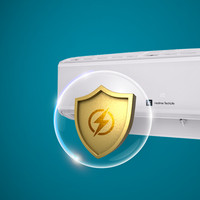 Stabiliser-free Operation
The built-in circuitry avoids the requirement for a stabiliser and assures that AC runs smoothly even when voltage variations range from 165-265V.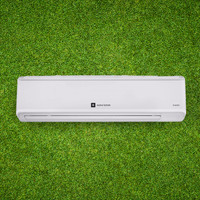 Eco-friendly Coolant
This AC uses R32 coolant, an environmentally friendly refrigerant, that releases a negligible greenhouse gas, culminating in diminished ozone depletion.