Are you looking for a smartwatch that can help you achieve a healthy lifestyle? Look no further, as the realme watch S Master Edition combines a stylish design with an array of useful features. Equipped with advanced sensors, this smartwatch tracks your heart rate and blood oxygen level (SpO2) to provide you with a clear picture of your current state of health. Additionally, with the realme Link app, you can get all the smartwatch settings and data in one convenient location.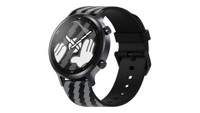 Large Touchscreen with Auto-Brightness
The large colour touchscreen of this smartwatch adapts to the ambient light and adjusts its brightness automatically. This way, it ensures that you can comfortably view the screen when you're indoors and even on-the-go.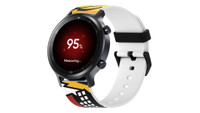 Heart Rate and Blood Oxygen Monitor
To ensure a better understanding of your current state of health, this smartwatch features advanced sensors for tracking your heart rate and blood oxygen level (SpO2) in real time.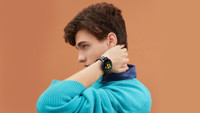 Reliable Battery Life
On a full charge, this smartwatch's energy-efficient battery delivers a runtime of up to 15 days, so you can go on short adventures, explore new trails, and travel to exotic locations without worrying about charging this smartwatch frequently.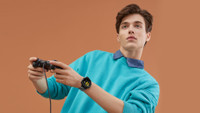 16 Sport Modes
Suitable for fitness enthusiasts and people who love sports, the 16 sports modes of this smartwatch help keep a track of your sports activities, such as football, table-tennis, yoga, and more. This smartwatch provides you with useful feedback and assistance for improving your form and fitness.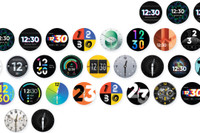 Over a 100 Stylish Watch Faces
This smartwatch offers over 100 trendy watch-faces that are designed in collaboration with famed designers and users. As a result, you can choose a different watch face every day for up to 3 months to suit your style and mood.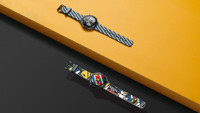 Premium Aluminium Alloy Case
The premium aluminium alloy case that envelops this smartwatch renders an attractive look while also providing a sturdy build quality. This way, your smartwatch can brave all the daily wear and tear of urban life and be by your side whenever you need it.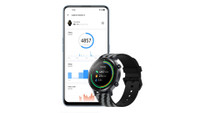 realme Link App
The realme Link App gets you unfettered access to the various smartwatch settings and data in one place. You can easily download it on Android smartphones and view the stats.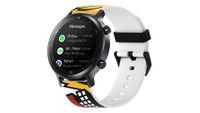 Smart Notifications
Even if you are travelling, stuck in a crowded place, or incredibly busy, you can check incoming calls, text messages, and other notifications right on your wrist, thanks to this smartwatch. This way, you do not have to keep reaching out for your phone every time it rings.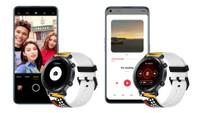 Smart Controls
This smartwatch enables smart controls for managing media playback and controlling some critical functions of your smartphone. You can skip songs, take a picture remotely, or play and pause music without touching your mobile device.