With the innovative, powerful, and stylish features of the Samsung Galaxy Z Fold2, you can conveniently talk, watch, work, and enjoy entertainment as per your convenience. This smartphone-cum-tablet features a Flex Mode to use this device as per your comfort, built-in 256 GB of storage capacity to store your files, and 12 GB of RAM for smooth mobile computing.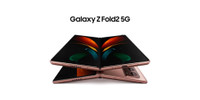 Stunning and Powerful
The Samsung Galaxy Z Fold2 is an innovative, powerful, and stunning device that offers a seamless mobile computing experience with immersive visuals.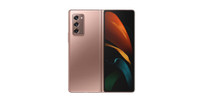 Smartphone-cum-Tablet
This is a smartphone-cum-tablet that is ideal for doing various everyday tasks with ease.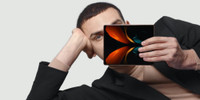 Flexible Display
Elevate your visual experience with this Samsung smartphone that comes with a flexible display. By unfolding it, you can use it as a tablet computer.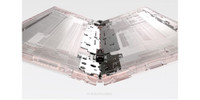 Impressive Hinge for Convenience
The state-of-the-art hideaway hinge of this smartphone offers a smooth fluid folding motion while folding, unfolding, and in Flex Mode. It has a CAM technology that lets you lock the screen as per your convenience.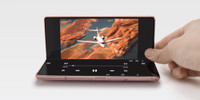 Flex Mode
You can fold this smartphone as per your convenience, thanks to its Flex Mode. You can use the Flex view on its Main Screen by simply folding it to make hands-free video calls without hassles. By flipping it, you can watch shows on the cover view on its front.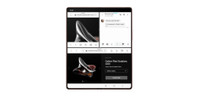 Unfold Visual Experiences
By switching from the Cover Screen to the Main Screen, you can enjoy seamless App continuity and easy multitasking. On the Cover Screen, you can open an app, then unfold this device to access the app on a bigger screen having an optimised UI. These two displays function seamlessly to ensure that the app continuity is maintained. It also has an upgraded multi-window layout, along with App Continuity. So, on the Cover Screen, you can multitask on two different apps simultaneously. Then, move to the Main Screen and open a third app using the Split Screen. So, you can work, play, and even watch a video at the same time on this device.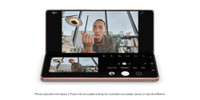 Beautiful Photos and Videos
Time to upgrade your photography and videography skills with this smartphone. This Samsung features a Flex Mode Camera to adjust the fold angle. So, you can easily capture hands-free vlogs and group shots. On the Main Screen, it has the Dual Preview that lets you frame-up your shot before clicking. So, your subject can make any adjustment as per the preview on the Cover Screen before clicking. To improve your selfies, you can tap on the Rear Cam Selfie that has an Auto Framing feature. This smartphone also has a Capture View Mode, that offers a preview and a large thumbnail of the image that you clicked. So, you can instantly check, and then click again to get your desired result. Also, the high pixels, as well as, upgraded AI offer vibrant shades and stunning clarity even in dark. The camera system of this smartphone captures multiple frames in one shot and then combines these frames to shoot beautiful images in the Night Mode.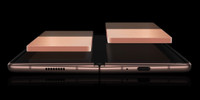 Powerful Performance
This smartphone comes with powerful hardware protection, high storage capacity, and long-lasting battery life. It has a proprietary sweeper technology made with hand-cut fibers to remove dirt and dust no matter how many times you fold and unfold it. Also, to prevent interior corrosion, it has a special material coating. To store your selfies, downloads, and vlogs, it has a built-in 256 GB of storage capacity. It also has an advanced and intelligent processor along with 12 GB of RAM for easy multitasking, live streamings, and other tasks.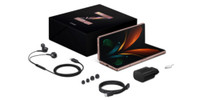 Unique Packaging
This smartphone comes with unique packaging and essentials to let you start using this device right away.