This Whirlpool Refrigerator makes use of the 6th Sense QuickCool technology to ensure cooling retention for up to nine hours. This way, when the power goes out, you can still enjoy chilled beverages and ice creams. Equipped with Toughened Glass Shelves, you can store large containers of food without causing any damage to the appliance.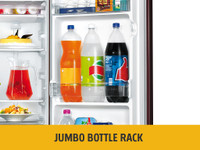 Jumbo Bottle Rack
The refrigerator comes with a Jumbo Bottle Rack where you can conveniently store upto three 2 litres bottles without any struggle for room.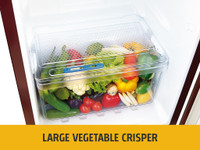 Large Vegetable Crisper
This refrigerator's extra-large vegetable crisper ensures that you never run out of space and hence you can store all your favourite fruits and veggies.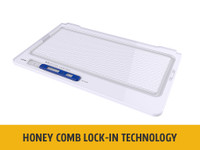 Honey Comb Lock-in Technology
The refrigerator's vegetable crisper with Honey Comb Moisture Lock-In technology helps in maintaining optimum moisture in your food, fruits and veggies, thus keeping them fresh longer.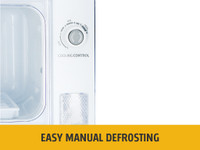 Easy Manual Defrosting
There is an easy defrosting mechanism that ensures an efficient usage of the refrigerator and efficient cooling as well.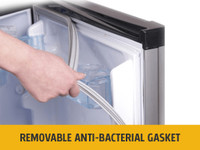 Removable Antibacterial Gasket
The fridge's removable anti-bacterial gasket is easy to clean and helps in keeping the door liner clean. It also helps in preventing the formation of bacteria and fungi, this keeping your food hygienic.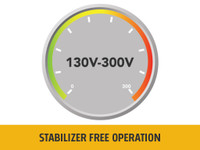 Stabiliser-free Operation
This function ensures that the refrigerator functions steadily even in the case of power outages or fluctuations between 130 V to 300 V.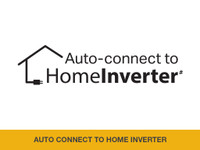 Connects to Home Inverter
This refrigerator will connect to your home inverter automatically during an instance of a power cut. As a result, it will retain the freshness of food items for longer durations.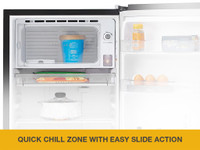 Quick Chill Zone
This chiller helps you store beverage cans and milk packets. This zone offers optimum cooling, thereby keeping your food items fresh.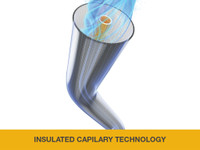 Insulated Capillary Technology
Super cold gas surrounds the capillary that carries the refrigerant from the compressor to the freezer. This offers a plethora of benefits, such as quick cooling capabilities, enhanced compressor efficiency, and better cooling retention in the refrigerator for about 9 hours.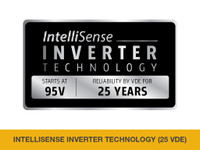 Intellisense Inverter technology
The inverter compressor of this refrigerator uses the IntelliSense Inverter technology, making it energy-efficient. Also, it has a low-starting voltage of 95 V.