12 Days of Garden Freshness
This refrigerator offers up to 12 days of garden freshness, thanks to the Honey Comb Design (with a moisture control system), the Microblock Technology, and the FreshFlow Air Tower with Flexi Vents. This way, you can enjoy the freshness of your fruits and veggies for a long time.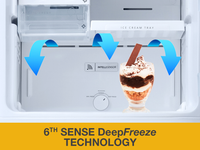 6th SENSE DeepFreeze Technology
The freezer compartment of this refrigerator makes use of the 6th SENSE DeepFreeze Technology to provide circular air flow in it. This helps limit cold air from going out of the freezer when the door is opened.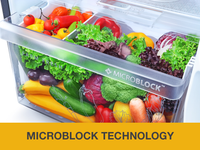 Microblock Technology
Thanks to the Microblock Technology, this refrigerator can adapt itself according to the different internal conditions of the appliance. This prevents up to 99% of bacterial growth, which keeps your veggies and fruits fresh for a long time.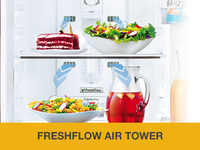 FreshFlow Air Tower
This scientifically designed air tower has strategically placed vents that send fresh air to all the areas of the refrigerator, ensuring uniform cooling for long-lasting freshness of your food items.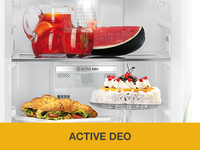 Active Deo
The Active Deo feature is situated at the bottom of the FreshFlow Air Tower and helps keep the refrigerator odour-free and fresh every time you open the door to take something out.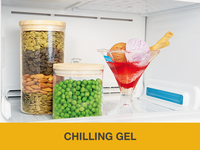 Chilling Gel
This refrigerator utilises a chilling gel in the freezer to ensure that the cooling is retained during a power cut. This helps prevent the melting of ice and the rotting of food.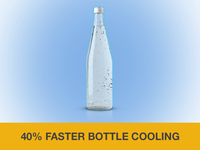 Fast Bottle Cooling
Thanks to the FreshFlow Air Tower with Flexi Vents, you can enjoy up to 40% faster bottle cooling. This way, you can enjoy chilled water and drinks in a jiffy.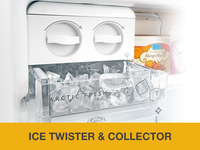 Ice Twister and Collector
With an easy and simple twist action, you can dispense and collect ice cubes in the collector box to make chilled beverages.