You can keep fruits, vegetables, and other food items fresh and hygienic in the Godrej EON 236 L Double-door Refrigerator. It is fitted with a jumbo vegetable tray that can hold large quantities of fresh produce with ease. Also, built with a removable antibacterial gasket on the door, this refrigerator does not let bacteria and germs enter, which means that the food items will stay fresh for extended periods. Moreover, this appliance has a large 2.25 L Aqua Space for storing water or beverage bottles.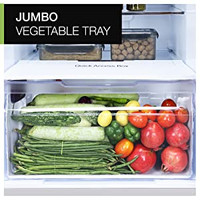 Large Vegetable Tray
Built with a jumbo-sized vegetable tray, the Godrej EON 236 L Double-door Refrigerator lets you store large quantities of produce, be it fruits or veggies.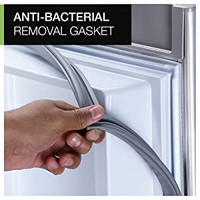 Removable Antibacterial Gasket
An antibacterial gasket on the door does not allow germs and bacteria to enter, which helps keep food items hygienic and fresh for a long time. Also, you can remove this gasket and conveniently wash it to maintain its hygiene.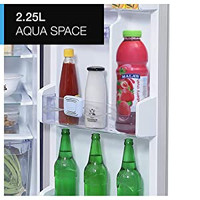 Large Aqua Space
This refrigerator's door sports a 2.25 L Aqua Space for conveniently storing big bottles of water and beverages.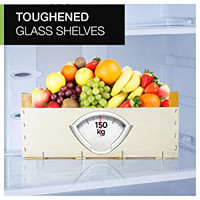 Toughened Glass Shelves
Built using toughened glass, each of this refrigerator's shelves is capable of enduring up to 150 kg of weight. So, even if the food containers are too heavy, you can place them on these robust shelves.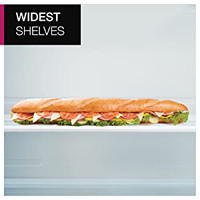 Wide Shelves
Fitted with wide shelves, this fridge offers ample space for leftovers and grocery items.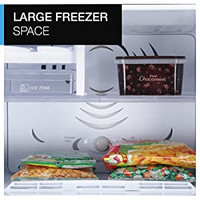 Large Freezer
This refrigerator's freezer tray can accommodate five 1 L water bottles with ease. So, you can check the freezer whenever you need to quench your thirst with a refreshingly cold glass of water.