Get this 190 L refrigerator from LG which not only gives you ample fridge space to keep veggies and leftovers fresher for longer but also comes with a freezer section which quickly makes ice. The Smart Inverter Compressor offers efficient performance, great savings, operates silently, and can even work without a stabilizer. Moreover, you don't need to worry about your food getting spoilt in case of a power outage as this appliance can be connected to your home inverter, thanks to the Smart Connect technology.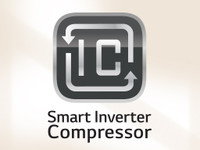 Smart Inverter Compressor
This LG refrigerator's Smart Inverter Compressor offers efficient performance, works silently, and functions optimally even without a stabilizer.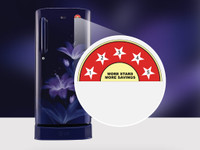 Energy-efficient Appliance
Save more on your electricity bills by getting home this LG refrigerator as it meets the energy efficiency standards set by the Bureau of Energy Efficiency (BEE).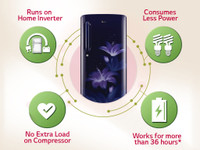 Smart Connect Technology
Store foods conveniently in this 190 L refrigerator without any worries as this appliance can run on your home inverter. An unexpected power cut will not spoil your desserts or pastry anymore.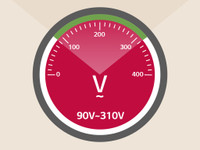 Stabilizer-free Operation
This refrigerator operates within a voltage range of 90 – 310 V, ensuring that the appliance can function efficiently even without an external stabilizer.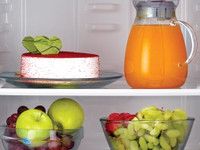 Toughened Glass Shelves
This refrigerator comes with toughened glass shelves that can conveniently accommodate weights of up to 175 kg, thereby enabling you to store even heavy food containers on them.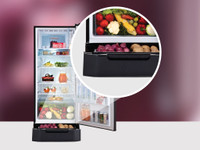 Base Stand with Drawer
The base stand drawer of this appliance lets you store vegetables, such as potatoes, onions, and more, at room temperature.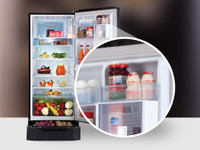 Antibacterial Gasket
Thanks to the antibacterial gasket, the food items in your refrigerator stay fresh and hygienic for longer. It also makes cleaning a hassle-free experience.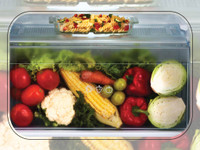 Moist 'N' Fresh
The special lattice-type box cover maintains moisture at an optimum level so fruits and vegetables stay fresher for longer periods.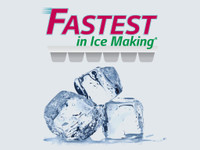 Faster Ice Making
You can serve chilled mocktails to your friends when they come over as this refrigerator helps make ice in about 108 minutes.