This AC is equipped with a DuraFin Plus condenser that helps to keep your heat exchanger shielded from rust and corrosion, thus delivering fast cooling performance. Thanks to the Triple Protector Plus Technology, you can keep your appliance protected from frequent power fluctuations and changing climatic conditions. Also, you can clean the AC effortlessly thanks to the easy clean filter, which has a dense mesh to protect against the antigens.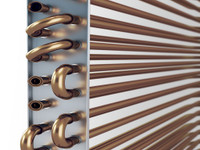 DuraFin Plus
You can beat the rising temperature with the enhanced performance of the DuraFin Plus function. This DuraFin Plus condenser is made of a copper tube and an anti-corrosion coated fin to protect it from rusting, thus maintaining the optimal performance of the heat exchanger.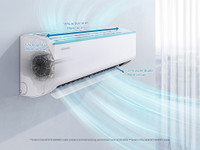 Rapid Cooling
Thanks to this fast cooling feature, you don't have to wait for a long time for this AC to cool your room as it features an advanced design that offers instant and uniform cooling up to 15 m as soon as it is turned on.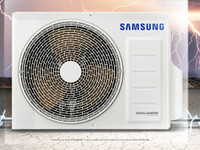 In-built Triple Protector Plus Technology
This AC is equipped with Triple Protector Plus technology that lets you enjoy cool and fresh air without having to worry about your AC getting damaged because of power fluctuations. Also, thanks to the anti-corrosion coating, your AC's condenser and cabinet remains protected during harsh weather conditions.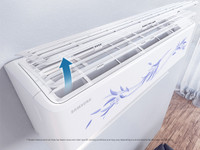 Easy Filter Plus Technology
You can keep your loved ones safe from airborne diseases, thanks to the Easy Filter Plus technology. The dense mesh inside the filter helps to efficiently stop the contaminants from getting inside the heat exchanger.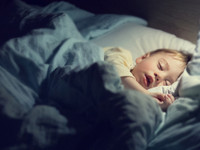 Comfortable Sleeping Mode
Wake up to a maintained and comfortable temperature every day, as this AC features a Good Sleep mode that enables your AC to change the temperature according to the desired level at every stage.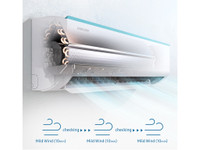 Auto Cleaning Function
You can get rid of pollutants such as dust and bacteria from the indoor unit, as this AC comes with an in-built auto cleaning function. Activating this function helps to automatically run the fan, thus removing the dust and moisture that gets collected in the heat exchanger.
Eco Refrigerant
This AC utilises an eco-friendly R32 refrigerant that allows your AC to emit less amount of greenhouse gases.