This AC is equipped with a Durafin Ultra condenser that helps to keep your heat exchanger protected from corrosion, thus ensuring efficient cooling. Thanks to the digital inverter technology, you can have consistent temperature with reduced fluctuations, thus saving your electricity bills. Also, this AC features Triple Protector Plus technology to keep your appliance well-protected from power surges.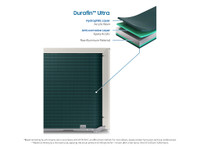 Durafin Ultra Condenser
This AC comes with a Durafin Ultra condenser to keep your heat exchanger protected from corrosion. Also, this Durafin Ultra comes with an anti-corrosive layer and a hydrophilic layer so that the AC's heat exchanger remains protected from rust.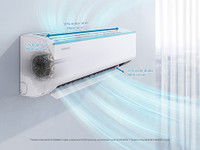 Efficient Cooling
This AC features fast cooling along with the digital inverter technology that helps to ensure efficient cooling, thus making your hot summer days a comfortable one. Also, this AC comes with a large fan, a wide inlet, and a wide blade that helps to distribute cool air across every corner of the room. Thus, even if you're sitting away from the AC, you can enjoy proper cooling.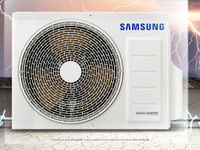 Triple Protector Plus Technology
This AC comes with Triple Protector Plus technology so that your AC remains well-protected from sudden power surges. Also, this AC comes with an anti-corrosion coating that helps to safeguard the condenser and cabinet in harsh conditions.
Effortless Filter Cleaning
This air conditioner comes with an easy filter system located at the top, so you get air that isn't just cool but free from bacteria and allergen, thus making AC cleaning effortless work.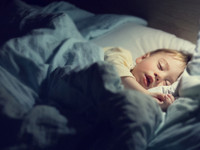 Good Sleep Mode
Thanks to the Good Sleep mode, you can enjoy controlling the temperature at the desired level for each stage. As a result, this helps create an environment conducive to sleep and keeps you comfortable while sleeping.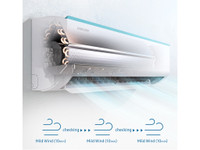 Auto Cleaning System
This AC features an Auto Clean function that helps to automatically dry the heat exchanger through a three-stage process, ensuring that the interior of your AC remains free from bacteria and odour development.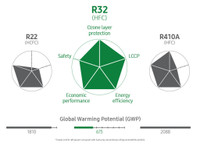 Environment-friendly Refrigerant
This air conditioner utilises an eco-friendly R32 refrigerant so that you can get optimal cooling. This refrigerant helps to conserve the ozone layer and has a minimum impact on global warming.