This 198 L aesthetic Samsung Refrigerator comes packed with innovative features to give you the best of both worlds. It can run on Solar Energy, enabling you to do your bit to save the environment. It offers Stabiliser-free Operation, which enables it to operate steadily and reliably during voltage fluctuations. This helps protect the appliance from damage.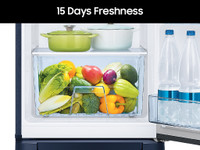 Fresh Food
This refrigerator ensures that your fruits, veggies, and more stay fresh for up to 15 days. This helps prevent food wastage.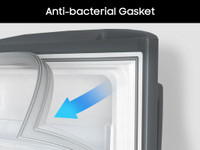 Anti-bacterial Gasket
The Anti-bacterial Gasket prevents fungi and bacteria from building up in the refrigerator. It helps keep the door liner clean as well. This ensures hygienic food storage.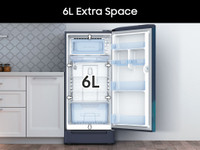 6L Extra Space
You can store bottles and utensils with the extra space in the refrigerator, preventing cluttered and messy storage.
Toughened Glass Shelves
This refrigerator has toughened glass shelves so that large vessels of food can be stored without causing damage.