This Samsung Direct Cool fridge is ideal for you. It is energy-efficient, which also makes it pocket-friendly. Additionally, it boasts the smart inverter compressor, which intelligently tracks cooling needs and provides efficient cooling to every corner of this fridge. Furthermore, you can keep your food fresh even during power cuts as it can easily work with your home inverter.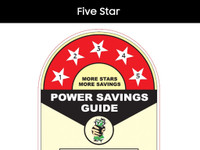 Energy-Efficient
This Samsung fridge is energy-efficient, which means that it is pocket-friendly.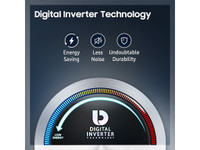 Digital Inverter Compressor
It uses the digital inverter compressor to intelligently track and accordingly supply cooling to the seven different levels of this fridge. The compressor also consumes less energy, provides efficient cooling, reduces noise, and enhances the life of this refrigerator.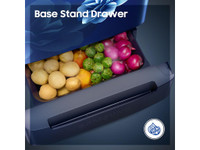 Base Stand Drawer
The base stand drawer allows you to conveniently store your dry vegetables like potatoes and onions so that you can organize your kitchen more efficiently and find all your ingredients in one place.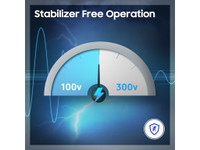 Stabilizer-free
It can function within the voltage range of 100-300 V so it does not require a stabilizer to help function through voltage fluctuation. In fact, the stabilizer-free operation also ensures automatic power cuts in the case of high voltage fluctuation.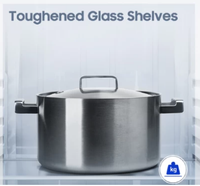 Toughened Glass Shelves
This refrigerator has toughened glass shelves so that large vessels of food can be stored without causing damage.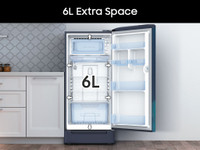 Extra Space
Enjoy 6 L of extra space that this Samsung Direct Cool refrigerator offers.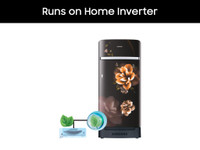 Runs on Home Inverter
Keep your food preserved even during power cuts as this fridge can easily run on your home inverter.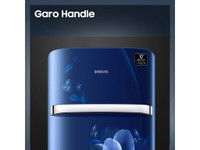 Garo Handle
It features a chic and convenient Garo Handle, which is placed horizontally on the door of this fridge.
Horizontal Curve Door Design
The round-top door is softly curved and features straight lines and a horizontal handle, which make it look sleek and stylish.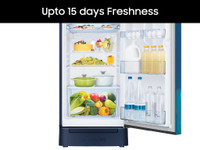 Freshness for Long
This Samsung fridge can keep your food fresh for up to 15 days.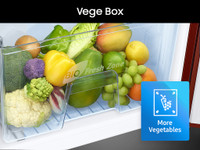 Vegetable Box
The large Vege box allows you to organise and store your vegetables and fruits in one place.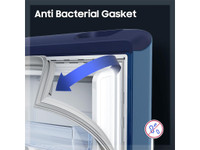 Anti-bacterial Gasket
This fridge boasts an anti-bacterial gasket, which prevents the growth of fungus and harmful bacteria and keeps your food safe and hygienic.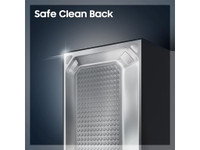 Clean Back
The back of this fridge comes with an easy to clean back cover, which protects cables and coils from damages caused by dust accumulation, knocks, dirt and more. This helps enhance the life of this fridge and makes it easier for you to keep it clean.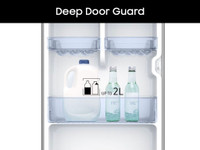 Deep Door Guard
The deep door guard can easily accommodate large bottles of up to 2 L capacity so that you are always ready for a party.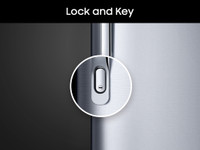 Lock and Key
Keep your children safe with the lock and key feature that allows you to lock the fridge with ease.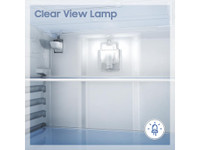 LED Lights
The energy-efficient LED lamp provides brighter light to help you locate your ingredients with ease.
Runs on Solar Energy
If you harness electricity with the help of solar panels, then the SPCU in this fridge allows it to run on solar energy within the voltage range of 100-300 V.