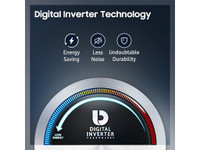 Digital Inverter Technology
This refrigerator is equipped with a Digital Inverter compressor which is capable of adjusting its speed to keep up with the cooling requirements. Thanks to this feature, this refrigerator makes less noise, provides you with energy efficiency, and serves your cooling and freezing requirements for a long time.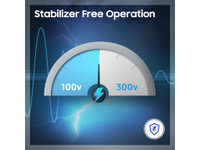 Stabilizer-free Operation
Designed to work reliably and steadily without a stabilizer, this refrigerator automatically severs the power in case of power fluctuations or increase in voltage to keep your refrigerator safeguarded from electrical damage.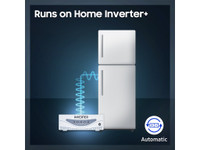 Runs on Home Inverter
Ensure your food does not get spoilt during power cuts with this refrigerator, which is equipped with a Smart Connect Inverter. Thanks to the inverter, this refrigerator will function smoothly even when there's no power.
Deodorizer
Equipped with an inbuilt natural fibre Deodorizing Filter, this refrigerator removes foul odours by continuously passing the air through activated carbon filters. This way, it ensures that the food's natural aroma and flavours remain intact for a long time.
Movable Ice Maker
Do you often crave a refreshing beverage on a hot summer noon? Simply twist the movable ice maker in this refrigerator to release ice cubes for your favourite beverages at any time. Moreover, during colder seasons, when there's no requirement for ice, you can move this ice maker to accommodate other food items inside your fridge.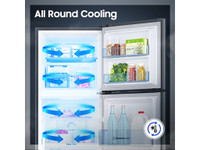 All-around Cooling
This refrigerator's All-around Cooling system keeps your food, fruits, and vegetables fresh for a long time with uniform cooling. This system blasts out cold air through strategically-placed vents on every shelf to keep the temperature consistent throughout the refrigerator.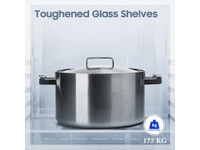 Toughened Glass Shelves
The toughened glass shelves in this refrigerator can withstand a weight of up to 175 kg. You can safely store food items within this weight limit on these sturdy shelves.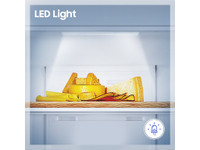 LED Light
Getting your midnight snacks becomes a cakewalk with the LED lighting inside this refrigerator which gives you clear visibility of the food items. Being sleek, bright, and energy-efficient, the LED lighting helps you find your ingredients without any hassle, even if there's no access to daylight or electricity-operated lights in this refrigerator's vicinity.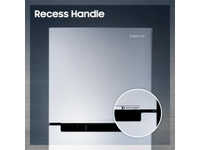 Recess Handle
Designed with recessed handles and hidden hinges, this refrigerator flaunts an elegant, seamless, and minimalistic look that accentuates the beauty of modern interiors.